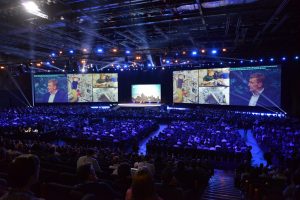 Here at JB Events, we are delighted to include Microsoft among our portfolio of repeat clients.  We build long-term relationships with our clients, and this lies at the heart of our success – and that of the events we deliver.  Working with Microsoft is no exception.  Microsoft has been a JB Events client for almost 20 years.  JBE Project Director Julie Rowlands leads on the Microsoft account. It's down to her diligence, professionalism and expertise that we have such a great relationship with Microsoft in the UK.
Events like Future Decoded can be twelve months in the planning
Future Decoded 2019 was twelve months in the planning, and 2019 was the sixth year of the event.  The JBE team has worked on the event from day one.  Once again, Julie's role was pivotal in its success.  She worked closely with the Microsoft Future Decoded team of internal staff and vendors to keep every aspect of the project on track.  Her role involved monitoring progress and keeping everything running smoothly right up until the doors at London ExCeL closed on 2 October – and beyond.
The event attracted a massive audience.  Over 10,000 attendees visited Future Decoded 2019 over two days.  Action-packed keynote presentations were central to each day's content. There were also breakout sessions, live streaming and networking opportunities throughout the event.  All were co-ordinated by JB Events.  There was no margin for error when it came to keeping things running smoothly.
Explore technology; prepare for the future
Day one invited delegates to explore technology as an enabler.  Day two focussed on preparing for the future of work in an AI-driven era.  The overall key objective of the event was to make sure that everyone left Future Decoded with sufficient practical advice on how best to leverage the latest technology trends within their own business.  And with over 200 different presentations and sessions taking place over the two days, there was no shortage of information, inspiration and expertise on hand.
JB Event's remit was to manage the logistics and production elements of the event. Our role was to make sure that every aspect of the event ran smoothly.  Crucially, we made sure that all the content sessions ran to schedule.  We also gave each session leader individual support and dealt with any last-minute challenges efficiently and discreetly. Without doubt, the high-profile, inspirational speakers, business-critical content and audience of senior business and technical decision-makers kept every member of our team on its toes throughout the event!
At the end of the day, we were delighted to be at the beating heart of Future Decoded 2019.