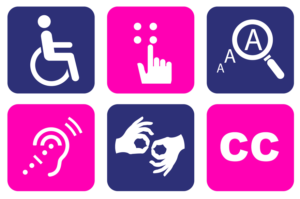 At JB Events we're passionate about making sure everyone attending an event we're responsible for gets the very best out of their experience. Everyone should be able to 'access all areas'. Indeed, accessibility for people with disabilities is an essential element of planning every event, no matter how large or small.
Why? Because over one billion people live with some kind of disability. And the chances are, some of them will attend one of your conferences or events during their career. Ensuring that they can participate fully is an important part of our job as event planners.
Accessibility touches every aspect of a conference or event. And there's plenty we can do to improve the experience people with disabilities have at these events. Consider:
site and venue selection
budgeting
catering
social events
onsite logistics
event infrastructure.
I have been fortunate to follow the journey of creating accessibility alongside one of JBE's long-term clients, Microsoft. The company has a dedicated initiative that aims to address all workplace accessibility issues for people with disabilities.  The initiative is called Accessibility Reimagined.  It helps employers create an accessible environment in which people with disabilities can work and fulfil their potential. Inspired by Microsoft's lead, at JBE we are transferring these ideas to all the conferences and events we work on, encouraging  venues and other clients to embrace accessibility too.
Addressing the challenges
Like sustainability, addressing the challenges of accessibility need not be as complicated as it might at first appear. Common sense, forethought and a little consideration can go a long way.  Together, they can easily improve the experience a disabled person has when attending a conference or event. A good start is to simply make them feel welcome and included in the proceedings. We thoroughly brief our on-site teams before every event to reinforce this approach. Empathy and awareness are crucial.
The practical approach
There are plenty of practical issues and challenges to iron out to maximise accessibility. Venues that take accessibility seriously are well aware of them and provide a comprehensive range of accessible features:
convenient parking for disabled drivers
building access via low gradient ramps
level, non slip floors with tactile differences to indicate hazardous areas
extra wide doorways and corridors
low level access to toilet and lift facilities.
If a venue isn't purpose built to embrace accessibility, it can often be easily adapted:
change the layout of a room
introduce temporary ramps to avoid steps
arrange for the catering team to bring food to the table at a self-service buffet
provide reserved seating for those with vision impairments, signing interpreters, wheelchair and mobility scooter users and people with guide / service dogs.
Recognising disabilities
It's important to remember that not all disabilities are immediately obvious. For example, it's not always easy to identify someone who is hard of hearing.  They will probably blend into the crowds quite well.  But induction loop facilities and / or the presence of signers would improve their conference experience considerably. Similarly, delegates with autism might well benefit from access to a quiet room where they can relax and collect their thoughts occasionally.
And once you've got the venue sorted out, there's still plenty you can do to enhance the disabled person's experience. Captions for session content; clear signage and access to alternate format printed materials (large print, hard copy braille, audio recordings and / or electronic files) for example.
None of this is rocket science, and it need not break the budget. But it does take time to think things through and a commitment to treating every delegate as you would wish to be treated yourself, whatever physical, mental or other challenges might be present. Operate on the principle of 'do as you would be done by' and you won't go far wrong!